Hay nets as feed troughs
The hay net is a popular, inexpensive and above all versatile alternative to large feed troughs. When feeding horses, sheep, cows and other livestock, these practical nets are generally used in meadows or paddocks or in a stable or barn. The use of the net for the supplementary feeding also keeps the animals occupied. At the same time, the use of hay nets prevents the hay from flying around.
Which hay net should I buy?
In our online shop, we offer knotted and knotless hay nets in different colours and mesh widths. Due to the properties of the hay, mesh widths between 4.5 cm and 6 cm have proven their worth and are ideal for larger animals. They are the perfect choice for keeping the animals occupied and for supplementary feeding on the spot in the meadow or in the stable or barn. The material polypropylene is intended for use outdoors and guarantees the feed net's weather resistance.
We recommend that you adjust the number of nets according to the size of your herd. To avoid jealousy over the feed, you can buy several hay nets and fix them at different points without any problems.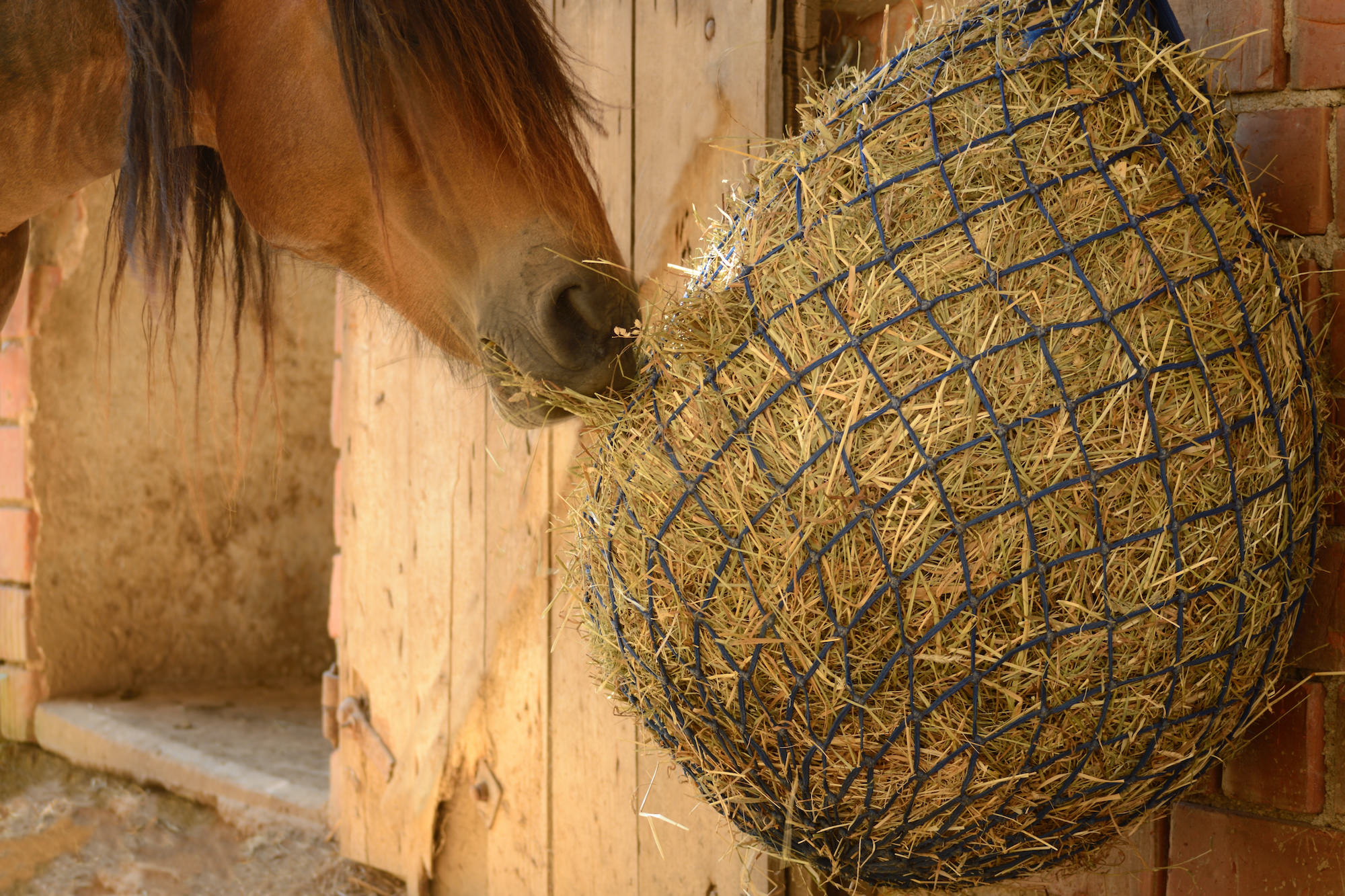 Close-mesh feed net
The nets can also be used for feed for smaller animals, such as rabbits. If you are looking for a particularly close-mesh net, you are welcome to have a look around our online shop. Many of our nets can be re-purposed as hay nets. Make sure that you choose the right material. If in doubt, seek advice from us over the telephone when you are buying your hay net – this is, of course, also part of our free service.
A comparison of a feed/hay net and a hay trough
Hay troughs for round bales in a standard size are, of course, correspondingly large and therefore can only be used in larger areas. Such troughs are also really bulky in comparison with hay nets and cannot be rearranged or transported as easily. Furthermore, the care that a hay net requires is limited in comparison with large feed troughs. Another advantage of hay nets is that even much smaller quantities of hay are held together in a net. For animals such as sheep or goats therefore such feed nets are, as a means of occupying the animals, a perfect alternative to large hay troughs
What advantages do hay nets offer?
The use of hay nets has many advantages. In addition to their low purchase price and long life, these include:
the net prevents losses caused by hay flying around
the hay net is flexible in terms of its location and is easy to transport
the feed or hay net is easy to fix in place/install (it can be suspended with ropes, fitted or firmly knotted, etc.)
the dust pollution in barns is reduced because the hay cannot be spun around
time savings; the daily ration can be made available in the hay net
feed times are extended and the animals are occupied, whilst jealousy over the feed is avoided or counteracted at the same time
You are looking for other nets for animals?
It is not only as feed nets for horses that hay nets are a sensible purchase. Other nets that are required when you keep animals – for example for house cats or birds – are also available in our online shop. You can buy bird nets or cat nets here.