Buy goal nets for professional and recreational sport
Along with safety nets, goal nets are amongst the best-selling nets in our "Sports nets" category. As net experts, we, for example, have produced goal nets for World Championships and are a competent contact for many different sporting events. Our goal nets are of the highest quality and, of course, comply with the strict requirements of German sports organisations – an indispensable criterion for official tournaments.
Buy goal nets online for many different types of sport
You can buy goal nets for many different types of sport very conveniently from us online. Whether you want nets for football goals, handball goals or ice or field hockey, you are sure to find what you are looking for in our online shop. Our selection includes professional nets for competitions as well as recreational nets for sporty hobbies at home.
The dimensions of the goal nets correspond to the required standard and the nets can be effortlessly mounted in the goal frame. You can find the precise figures (width, height and net depth) in the table on our sports nets page, with just one click on the relevant sport.
The required mesh width for the nets also fits the standard dimensions for the respective sport, of course. For a football or handball goal net, for example, this is 10 or 12 cm respectively. For ice hockey, on the other hand, it is just 38 mm due to the smaller size of the puck.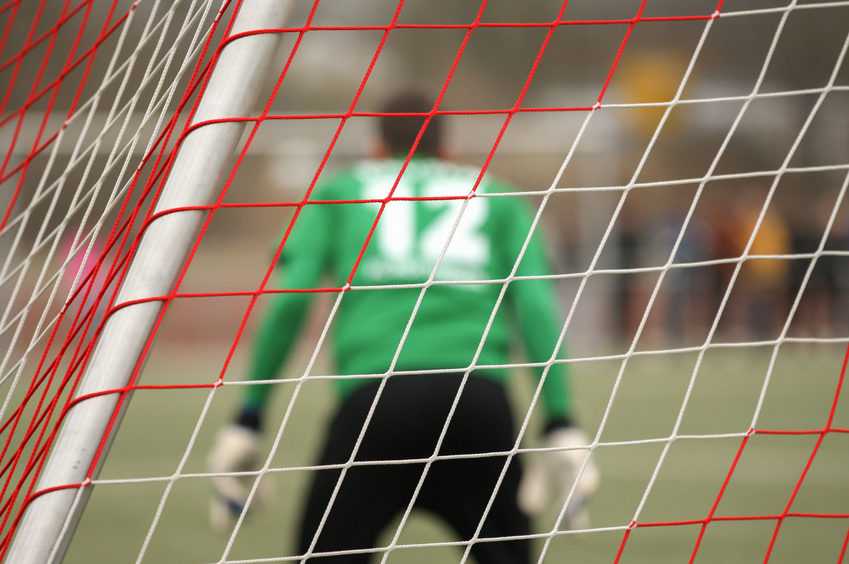 What material is used to make a goal net?
As goal nets are used in different places, the material used plays an important role in guaranteeing the durability of the net. A goal net that is used for handball or ice hockey must meet different requirements to goal nets on an outdoor football pitch, for example. For outdoor use, the nets must be UV-resistant and weatherproof. For this, we recommend our polypropylene nets, for example. For ice hockey, on the other hand, nylon or polyester puck stop nets can be used. If you have any questions, we will advise you free-of-charge over the telephone.
Tip: what about a two-coloured goal net in the club colours when you buy a new net? We offer white-striped versions in the colours red, blue, green and black. You can also choose black and yellow, blue and yellow, or black and red combinations when buying one of our goal nets for football goals.
Installing a goal net in a handball goal
We will demonstrate how to fasten a net correctly in the goal in a video tutorial (language is german, please use Youtubes automatic subtitles). The appropriate accessories, such as net hooks or a ballast chain, are, of course, also available in our shop.
You are welcome to integrate the YouTube video into your club website or forward the link as an aid.
Buy a knotted goal net for easier repairs
You can buy your desired goal nets in our online shop. For many nets, you also have the choice between knotless nets and the knotted version. Knotted nets are less elastic due to the production method with knots. Such a net is also easier to repair if it does tear when the ball has put too much strain on the goal net.