Welcome to the website of the net specialist!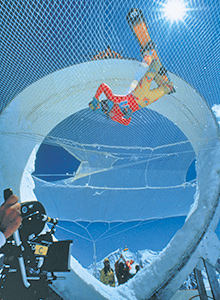 65 years of experience in the production of nets have made our brand DOST synonymous with quality.
Do you want to build at the height of a television tower, construct a multi-purpose hall, secure ski runs, landfill sites or ponds, protect facades from soiling by birds or incorporate an architecturally attractive aviary into the landscape?
Do you need protection nets for a sports facility? Our sports nets are at home on many football pitches, tennis courts and beach volleyball courts. We also provide you with netting for use in sports halls. Ball stop nets and goal nets for a wide variety of indoor sports are available from us as well as nets for golf cages and hockey pitches.
We will provide you with competent advice for any project. Planning, production and installation are in reliable hands with us. Would you like to familiarise yourself with our extensive product range?
You can communicate your enquiries to us by post, telephone, fax or e-mail.
For a modern, service-oriented company like ours, it goes without saying that all enquiries are answered promptly and by the quickest method.
Would you like to familiarise yourself with our extensive product range?
Then please request our latest catalogues:

Download 'German Sports Nets' catalogue

(13 MB)

Download 'German Safety Nets' catalogue

(4 MB)