Tarpaulin covers – inexpensive protection
Tarpaulin covers are often used to prevent small or particularly light objects in bins, larger receptacles, cargo containers or pits from flying around. Truck tarpaulins, for example, protect the cargo from contact with the headwind and guarantee safety on the road as a prescribed safety measure. In our online shop, you can choose from a variety of different tarpaulin covers or woven fabrics made of different materials and with different thicknesses and colours.
Hygiene due to air-permeable tarpaulin covers
Our tarpaulin covers made of air-permeable material provide a hygienic cover. The woven fabric is comparable with a very dense net with a tiny mesh. Whether it's in a polyester scrim or a particularly tear-proof and stable monofilament fabric, the advantage of air-permeability is obvious. Because sufficient air is able to circulate, no excessive humidity is produced beneath the tarpaulin, which could otherwise lead to unpleasant odours or the formation of mould. At the same time, the tarpaulin provides protection from the weather conditions, such as a strong wind or sunlight.
The hygiene beneath the tarpaulin is particularly important for sand pits that come into contact with people's skin. When you buy tarpaulin covers for jumping pits or sandpits, for example, you should ensure that the material has the appropriate properties.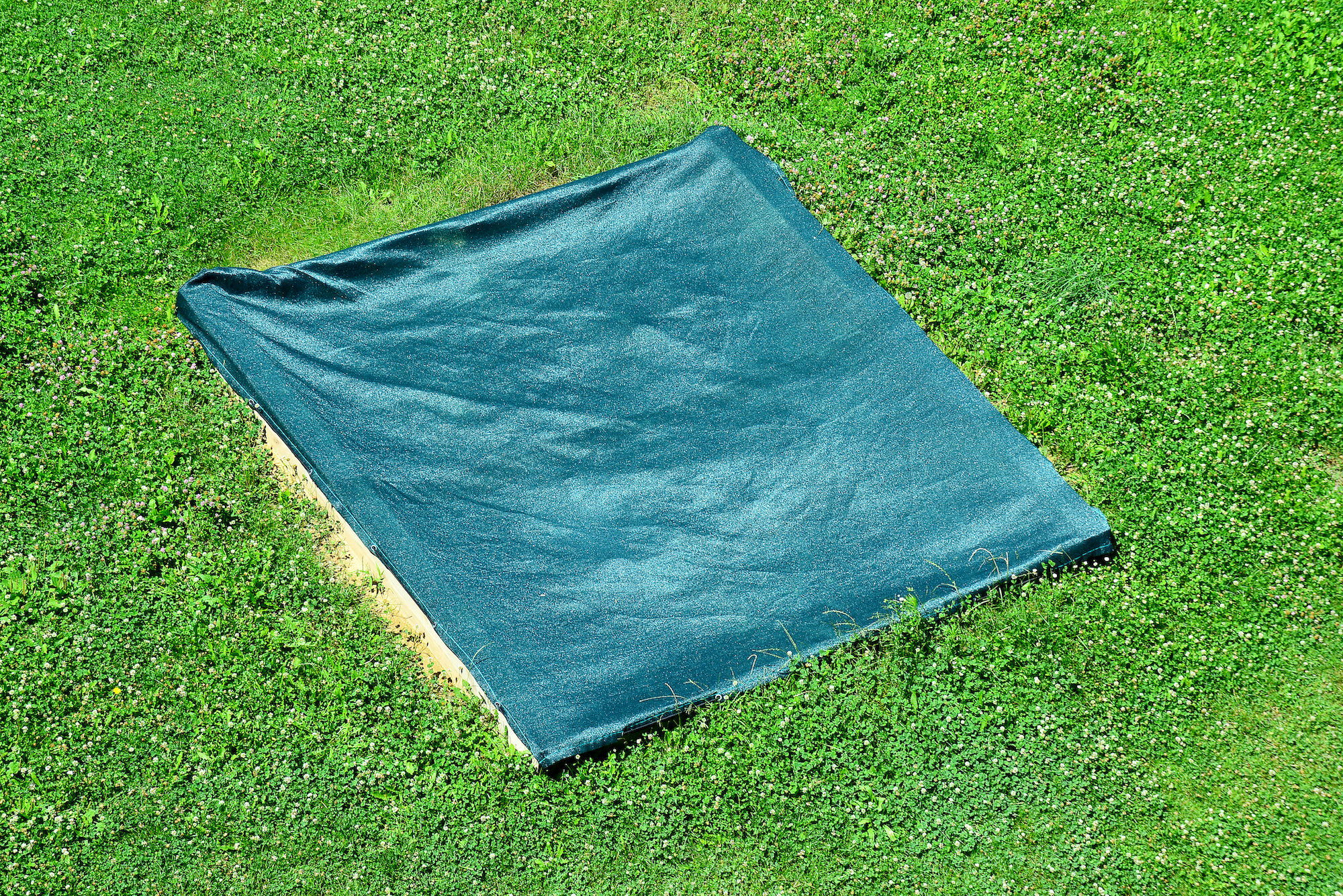 Watertight tarpaulin covers
However, the use of watertight or airtight tarpaulin covers is also justified for certain purposes. If your cover is supposed to be completely watertight, we will be happy to help. If you have any questions about your desired cover, simply call us. Coated woven fabrics and special products also present no problems to us.
You can specify the size of your protective tarpaulin and choose between various unobtrusive colours, such as green or black. You can also obtain other useful products from us as accessories for the woven tarpaulin, for example a variety of ropes for fastening the tarpaulin or galvanised tarpaulin hooks.
Tested tarpaulin covers
Our tarpaulins, which are used for transporting cargo, are DEKRA-tested and have an edge reinforcement. The material's UV resistance is perfect for outdoor use. There are eyelets all around the edge at 0.5 m intervals, allowing the tarpaulin to be attached quickly, but securely to the truck or trailer.
In some cases and for appropriate cargo, close-mesh nets can be considered for use as a cover instead of a tarpaulin cover. In our online shop, you can, for example, purchase high-quality trailer nets – a free telephone consultation with an expert is included.